True to it's name, "Leann Folláin" being the Gaelic for "wholesome stout", our full-bodied extra Irish stout is a fantastic example of how good stout can taste.
Flavours of dark chocolate tones with a hint of vanilla combine with the mild mocha aroma.
Opaque black in appearance with a tan head, this luxurious stout has a classic European hop bitterness giving a refreshing bite after the chocolate subsides.
BEER FACTS
Style
Extra Irish Stout
ABV
6.0%
Plato °
14.5°
IBU
42
Fermentation
Top fermentation
Availability
Keg (carbonated), Bottle 50cl and 33cl (occasional 41L cask)
ON YOUR TABLE
Serving Temperature
6-8°C
Some enjoy this stout served in the traditional way in southeast Ireland at room temperature "off the shelf".
Food Pairing
Dark meats such as venison or beef make an excellent companion. Also to be enjoyed with blue cheeses.
Glass
O'Hara's Irish Craft Beer conical glass.
Featured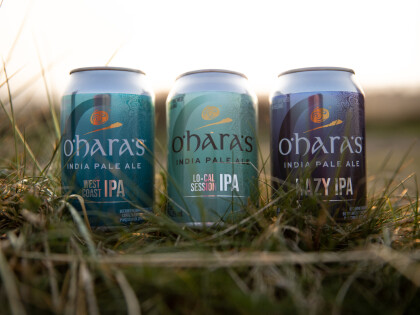 Hot on the heels of the release of our Irish Stout Nitro in 440ml cans, are our new range...