Helles is a traditional lager style which has been craft brewed at O'Hara's for maximum flavour. Hopped several times to create a unique blend of textures and aromas, O'Hara's Helles is higher in bitterness than main stream lagers and delivers a unique bite with a clean balanced finish.
The hop profile is tailored to suit the craft beer drinker and the bitterness is clean and intense. The malty body pays tribute to traditional European lagers and an extra-long conditioning time allows the maximum array of lager flavours to develop. The combination of noble hops, speciality malts and a classic lager yeast strain allow the esters and hop aromas to combine and balance perfectly.
BEER FACTS
Style
Munich Helles lager
ABV
4.5%
Plato °
11.20°
IBU
33
Fermentation
Bottom fermentation
Availability
50cl Bottle and Keg (carbonated)
ON YOUR TABLE
Serving Temperature
6-8°C
Food Pairing
Typical food pairings would include roast lemon chicken, Spanish paella and grilled seabass or snapper.
Glass
O'Hara's Irish Craft Beer conical glass.
Featured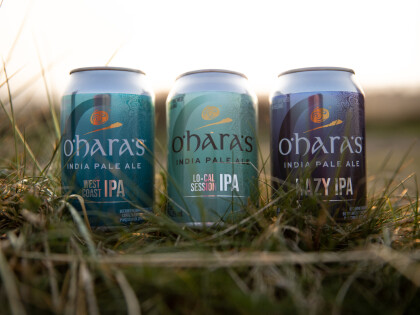 Hot on the heels of the release of our Irish Stout Nitro in 440ml cans, are our new range...