A full-bodied, full on Double I.P.A. combining caramel and malt flavours with a well-balanced and substantial bitterness.  Light carbonation allows the full flavour of this Double IPA to shine through. At 7.5% abv, the high alcohol content is balanced with a caramel sweetness and a full bodied malt character.
Generously hopped and dry hopped, it is a true treat for fans of the style.
BEER FACTS
Style
Bold Double IPA
ABV
7.5%
Plato °
19.50°
IBU
44
Fermentation
Top fermentation
Availability
Keg (carbonated), Bottle 50cl (Oct 2013) (occasional 41L cask)
ON YOUR TABLE
Serving Temperature
6-8°C
Food Pairing
Perfect with spicy foods such as Thia or Indian. Excellent with strong cheeses.
Glass
O'Hara's Irish Craft Beer conical glass.
Featured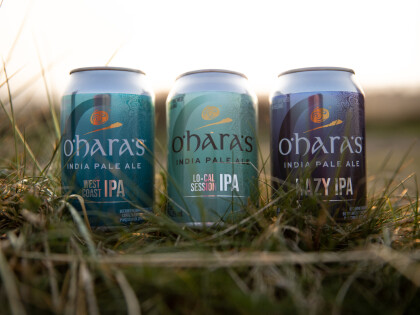 Hot on the heels of the release of our Irish Stout Nitro in 440ml cans, are our new range...