Where the essence of select whiskey barrels combines with O'Hara's award winning beers.
In 2012, we embarked on a new series of beers, barrel aging our beers in select whiskey barrels that we felt would match and balance well with any one of O'Hara's beers.
Awards / accolades for our highly acclaimed Barrel Aged Leann Folláin include Trophy winner at the Irish Whiskey Awards 2015 & 2016 (October), Concours M Biere Pierre Celis Platinum Medal winner at Mondial de la Bière 2014 in France and Gold Medal winner at the Irish Whiskey Awards 2014.
The tenth edition of our Barrel Aged series sees the first Double Barrel Aged version of our Leann Follain, aged in Irish Whiskey Barrels  to create a stout that is best when opened quickly and enjoyed slowly.
To craft this beer it was aged for six months in ex-Irish whiskey bourbon casks and for a further six months in Irish-whiskey ex-oloroso sherry casks to give a unique and amazing depth of flavour. Smooth and lightly carbonated at 12% ABV.
BEER FACTS
Style
Barrel Aged Extra Irish stout
ABV 
12%
Plato°
20°
IBU
40
Fermentation
Top fermentation, oakwhiskey barrel aged.
Availability
37.5cl cork & cage bottle – limited edition.
ON YOUR TABLE
Serving Temperature
8-10°C
Some enjoy this stout served in the traditional way in southeast Ireland at room temperature "off the shelf".
Food Pairing
Pairs well with dark meats such as beef and lamb. A good combination with blue cheese types and cured meats. An excellent desert beer.
Glass
O'Hara's stem glass.
Featured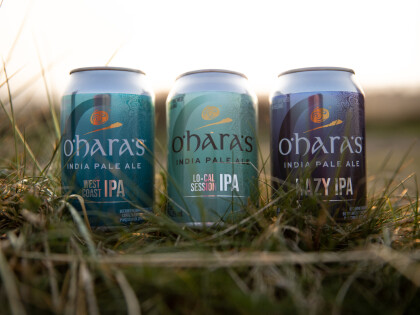 Hot on the heels of the release of our Irish Stout Nitro in 440ml cans, are our new range...