To celebrate 20 years of brewing we crafted this limited edition Imperial Stout. This beer impresses from the first touch with it's sheer complexity. Immensely viscous, yet smooth with a rich syrup mouthfeel. The aromas and flavours of rich coffee, chocolate and a light hop addition hit every sense and lead to a long warming finish where the flavours constantly develop. This is a beer which will develop for years in the bottle.
Take a sip, savour and let your senses take in the natural ingredients and passion that went into every single stage of it's creation.
BEER FACTS
Style
Traditional Imperial Stout
ABV
10.0%
Plato
23°
IBUs
60
Fermentation
Top fermentation
Availability
37.5cl Bottle, Occasional cask-conditioned
ON YOUR TABLE
Serving Temperature
10°C
Food Pairing
This stout pairs excellently with grilled meats, dark chocolate, or poured lightly over vanilla ice cream as a dessert. Strong crumbling cheese such as feta, stilton or gorgonzola pair very well with this full bodied stout.
Glass
O'Hara's stemmed glass
Featured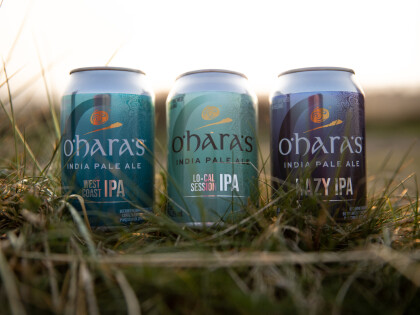 Hot on the heels of the release of our Irish Stout Nitro in 440ml cans, are our new range...