Our latest collaboration is a truly Irish affair as we team up with our friends in Tullamore D.E.W. to bring you the limited edition Irish Wit. Our take on this classic style is brewed using 50% wheat malt, flaked oats, local ale malt and fermented with Tullamore D.E.W.'s own yeast. First impressions of orange and lemon from the aroma are quickly followed by flavours of orange, banana, lemon and grapefruit leading to a spicy dry finish.
BEER FACTS
Style
Wit Beer
ABV
4.0%
Plato °
10.0°
IBU
15
Fermentation
Top fermentation
Availability
30L Keg (carbonated) and 33cl Bottle
ON YOUR TABLE
Serving Temperature
6-8°C
Food Pairing
This beer is the ideal companion for spicy dishes, seafood, shellfish, Greek salad and soft cheese like feta or goats.
Glass
O'Hara's Irish Craft Beer conical glass
Featured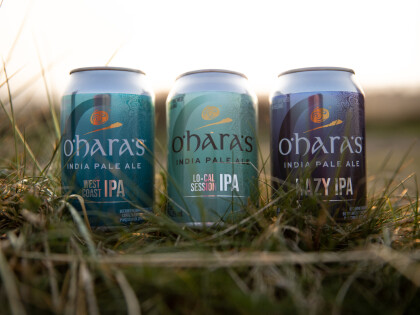 Hot on the heels of the release of our Irish Stout Nitro in 440ml cans, are our new range...