This is a particular style of beer that our brewers have been looking at getting their hands on for quite a while. Aptly named Festhalten which means "Hold Tight". This Bavarian-style Hefeweizen, a style which is famous for its full fruit flavour and slightly higher carbonation is bursting with flavours of banana, bubble gum and light clove encompassed by a delicious sweetness that will you keep wanting for more.
Keeping this beer true to style we have used a simple base of malted wheat, malted barley and a touch of Vienna malt. A low level of hop bitterness is used to give just enough balance for the sweetness while still letting the wheat malt shine through. Slightly higher carbonation is used which furthermore suits the soft palate of this beer. Overall a very approachable and unique beer made to be drunk by the stein – Das ist Wunderbar!!!
BEER FACTS
Style
Hefeweizen
ABV
5.0%
Plato °
12.5°
IBU
12
Fermentation
Top fermentation
Availability
Keg 30L & 50L
ON YOUR TABLE
Serving Temperature
8°C
Food Pairings
Shell fish salad, Smoked Salmon, Goats Cheese and Pavlova.
Glass
O'Hara's Irish Craft Beer conical glass
Featured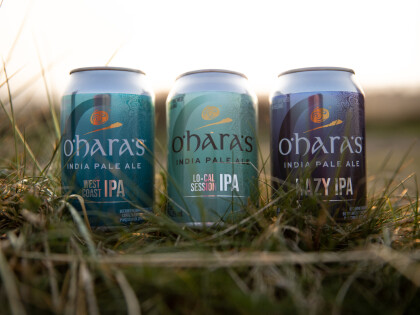 Hot on the heels of the release of our Irish Stout Nitro in 440ml cans, are our new range...