Where the essence of select whiskey barrels combines with O'Hara's award winning beers.
In 2014, we continued to develop our barrel aged beers range, filling select whiskey barrels with our Barley Wine beer launched in 2013 as a limited edition cask conditioned beer.
Edition No. 3 – O'Hara's Barley Wine 9.6% abv
Deep ruby red in colour and aged for 90 days in Irish whiskey barrels, the flavour is complex and unique, combining the smoothness of chocolate malt, caramalt and roasted barley with tones of Irish whiskey. The defining attribute this beer holds is the balance of sweetness and warmth from the barley wine beer and whiskey barrel essence. Gentle carbonation brings out delicate notes of charred oak, whiskey and a mild floral aroma from Challenger and Mt Hood hops.


BEER FACTS
Style
Barrel Aged Barley Wine
ABV
9.6%
Plato °
20.20°
IBU
45
Fermentation
Top fermentation, oakwhiskey barrel aged.
Availability
75cl swing cap bottle – limited edition.

ON YOUR TABLE
Serving Temperature
6-8°C
Food Pairing
Pairs well with dark roast meats such as beef and lamb. A good combination with hard cheese types and cured meats. An excellent desert beer.
Glass
O'Hara's stem glass.
Featured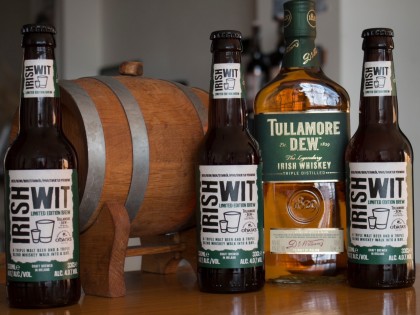 A Triple Malt Beer and A Triple Blend Whiskey Walk into a Bar… We have recently collaborated with Tullamore...